Most of us have suffered grief in our lives and endured overwhelming sadness. Grieving is a very personal process that we all deal with in different ways. But, we must all grieve in order to be able to move on. Moving on doesn't mean forgetting but remembering our loved ones. Loss and grief can begin as early as when a diagnosis of terminal illness is given, and fluctuates and changes as the rest of the journey unfolds. It can flow around in ripples or crashing waves, but coping with loss and grief, while personal, doesn't need to be a journey on your own. Our Resource Guide and the information here provides ideas for support as you move through the pain of loss in your life.
Do you need assistance? Connect with someone who can help by contacting our Palliative & Grief Support Navigator by emailing us at info@pcsbv.ca.
The Resource Guide has been compiled as a handy, one-stop reference for the many aspects of palliative and end-of-life care and supports. 
The Guide covers topics from disease management, to loss and grief, to a variety of community and social supports. It also covers the difficult topic of death and the administration of dying.
The Guide was completed in 2019 and will be reviewed and updated annually. For resources not listed in the Guide or for further insight into supports across the community, please reach out to us at outreach@pcsbv.ca.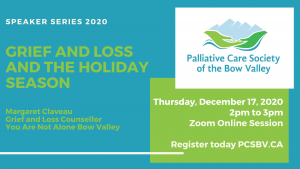 Join Margaret Claveau, Grief and Loss Counsellor from You Are Not Alone Bow Valley (https://youarenotalonebowvalley.ca/) as she shares insights and strategies to manage grief over the holiday season. REGISTER HERE (Closed)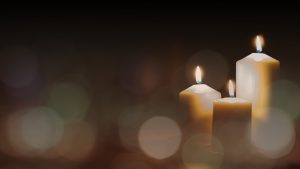 A Zoom event sponsored by the Palliative Care Society of the Bow Valley, in conjunction with Members of the Canmore/Banff Ministerial and Bow River funeral Services.