The Palliative Care Society of the Bow Valley is a community-focused, volunteer-led, charitable non-profit that helps improve the experience for individuals and their families who call the Bow Valley home and who are on the journey with life-limiting illness.

Our goal is to build a hospice house in the Bow Valley for our residents. We are working hard to have this in the next few years.

We are here to help you plan for your terminal illness and to work through a life-limiting illness diagnosis.  Be it to navigate loss and grief, to understand the complexities of palliative care in our help care system, you are not alone, and help is available. 

We are here to be that help.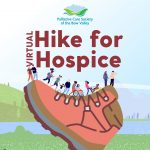 We have launched our registration for our Virtual Hike for Hospice 2021! Learn more and join the fun!
Read More