Thanks to generous donors, PCSBV provides client services without a fee.
For more info on any of the programs and client services listed below please contact the PCSBV's Grief Support Navigator for more information via email at bill.harder@pcsbv.ca or by calling 403-458-0433.
Personalized one-on-one consultations after the loss of a loved one. This support is not limited to a familial loss and is open to anyone in need of grief support. You may book one-on-one sessions in-person (office, your home, or a location that suits you best), or virtually by phone/Zoom. The PCSBV Navigator is also available to provide family or group consultations after a loss.
CANMORE GRIEF SUPPORT WALKING GROUP
Walks are open to all who are 18+ to drop-in and have a grief conversation with other attendees of the group. The walk last approximately 30 minutes and then end with a guided conversation on the themes of grief and loss.
Starting November 2, 2022 during winter (Nov, Dec, Jan, Feb, March) the Canmore Grief Support walking group is inside at the Canmore Recreation Centre - 1900 8 Ave.
Date: Every Wednesday
Time: 1:30-2:30 PM
Location: Please meet in the Canmore Recreation Centre Lobby
The Canmore Grief Support walking group is held outside when weather permits during spring / fall (April, May, June, Sept, Oct.)
Date: Every Wednesday
Time: 4:45-5:30 PM
Location: Please meet at the community mailboxes on River Road alongside Riverside Park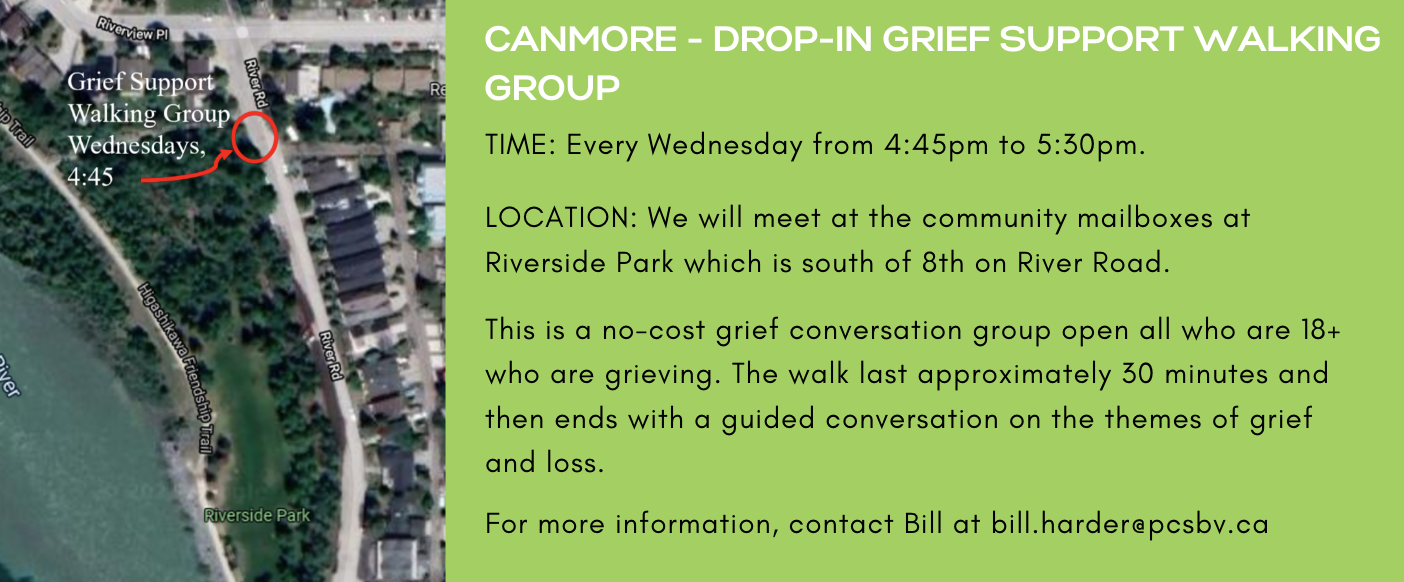 VOlUNTEERS & VOLUNTEER TRAINNING
PCSBV volunteers directly help clients along their palliative journey and their families with grief support. PCSBV hosts nine different training modules that are certified by the Canadian Hospice Palliative Care Association and are available throughout the year. More info about PCSBV volunteers HERE.
The PCSBV Speaker Series focuses on in-depth discussions over the year with high-caliber thought leaders on topics core to palliative and hospice care, living with serious illness, caregiver supports and managing the grief experience.
Past speakers include Dr. Samantha (Sammy) Winemaker, Dr. Kathryn Mannix, Dr. Hsien Seow, local registered dietitian Zarifa Monson, and education consultant Alexandra Kushliak, with Alberta Health Services.
These sessions expand awareness of palliative and end-of-life care, along with grief support in the workplace. PCSBV provides
workshops and training sessions on themes of navigating personal and/or professional grief and loss. Sessions are sculpted to the needs of the audience.
Sessions are sculpted to the needs of the audience, from 30 minutes to half-day workshops and the sessions also allow for networking between organizations.
CONTINUING EDUCATION (CE) & PROFESSIONAL DEVELOPMENT
Workshops and presentations offering registered continuing education credits that provide knowledge, teaching tools, and useful strategies.
In 2021 the PCSBV partnered with Pallium Canada to offer LEAP Core to Bow Valley health care professionals.