Thanks to generous donors, PCSBV provides client services without a fee.
If you would like to access any of the programs and client services listed below please contact the PCSBV for more information via email at info@pcsbv.ca or by calling 403-707-7111.
Personalized one-on-one or group consultations with PCSBV's specialist grief practitioners. Grief presents itself in many ways for many different reasons. This offering is open to anyone in need of grief support and is not limited to the loss of a loved one.
These dedicated volunteers help with palliative supports for individuals and respite care for family members along with grief companioning. It's common to see our volunteers supporting clients in many nurturing ways such as: skiing or birding with dementia clients, meeting for coffee with grief support clients, and tidying houses for busy family members.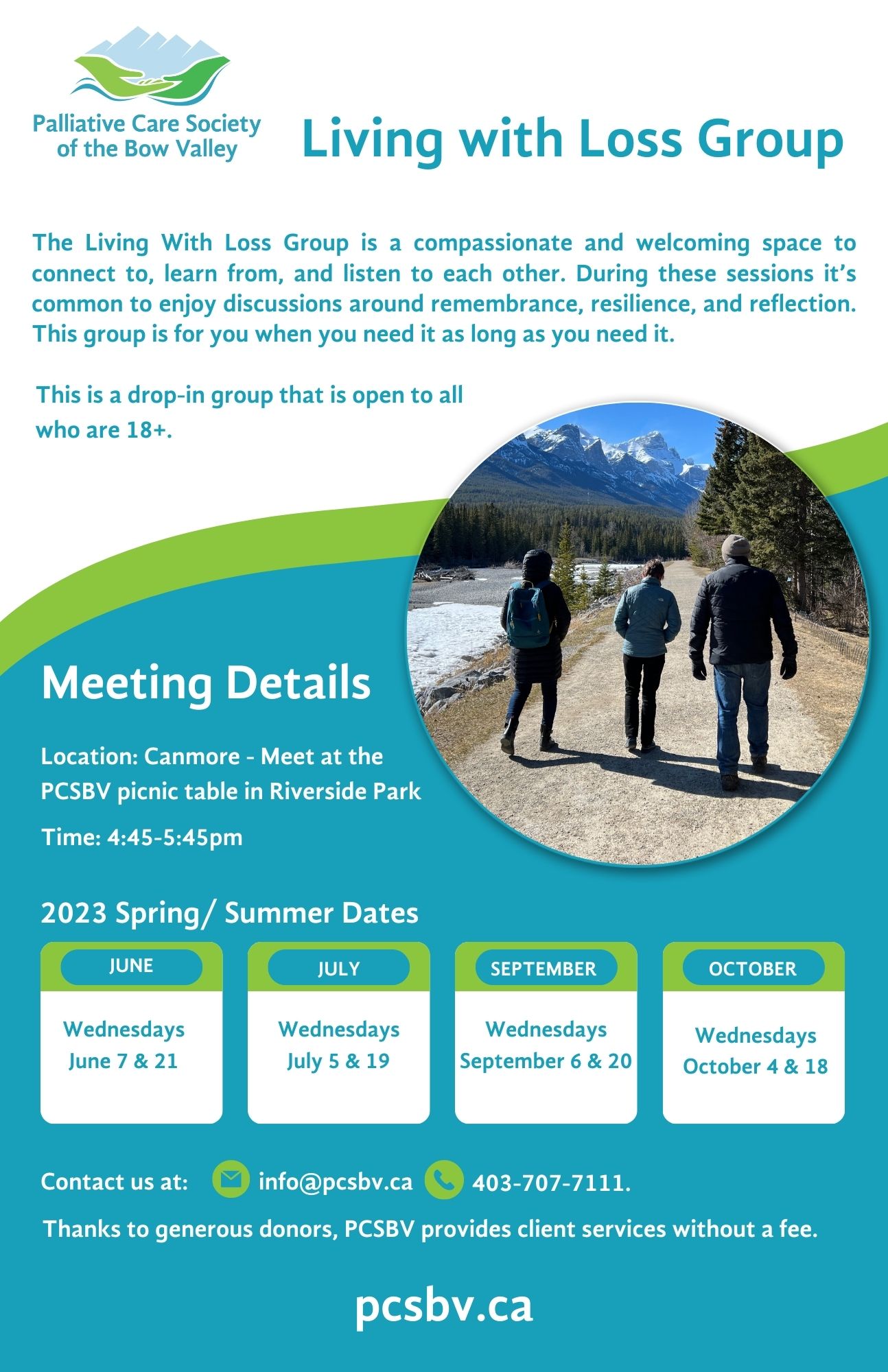 PCSBV hosts Art Workshops as a way to express and explore the parts of sorrow which are beyond words. These in-person groups are small to create a sense of refuge together. Groups are held multiple times a year to allow for adult, teen, and child cohorts. No artistic experience necessary.
The PCSBV Speaker Events focus on in-depth discussions with local, national, and international thought leaders on topics core to palliative and hospice care, living with serious illness, caregiver supports, and managing the grief experience.
Past speakers include Dr. Samantha (Sammy) Winemaker, Dr. Kathryn Mannix, Dr. Hsien Seow, local registered dietitian Zarifa Monson, and education consultant Alexandra Kushliak, with Alberta Health Services.
PRESENTATIONS & TRAINING SESSIONS
Sessions are sculpted to the needs of the audience. Some workshops offer registered continuing education credits that provide knowledge, teaching tools, and useful strategies to medical and other health care providers. Past sessions have focused on expanding awareness of professional or personal caregiver fatigue / wellness, palliative and end-of- life care, grief support in the workplace, and navigating personal or professional loss.
Produced by members of the Mountain Cabin Quilters Guild, these bags are a gift from PCSBV to families grieving a recent death. Each bag is intended to transport home the personal items left behind by a loved one who has passed on. The bags are a sign of our compassion for the family and friends at this difficult time.